Almost killed a traffic warden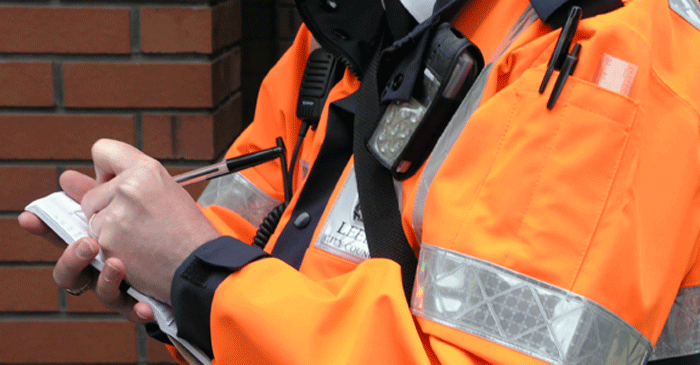 It was one of the roles of an apprentice to spend time assisting in the stores, all the installation engineers were expected to use public transport or their own transport to get to and from site, hence all the parts required to install the systems had to by selected from stores and delivered to site prior to the installation start date.
In building up the package of parts, a kit build sheet was prepared and provided to the storeman, this kit list contained everything required right down to the screws, rawlplugs, staples and cable clips.
An experienced storeman could often spot an error and simply correct it, one common error was the quantities of small yellow, medium red and large brown rawlplugs (screw fixings), if the installation was for a bank, and only yellow plugs and one inch screws had been specified, it was obvious that larger fixings would be needed, the storeman would simply add some to the build, however after a stock check, this practice was ended, only what is on the build sheet was the mantra.
I mention banks, but equally all high security sites utilised high security external sounders, these are large and heavy, and I can attest to this because I have handled them in the stores.
They included, triangular steel heavy gauge backplate, electronics with lead acid battery, 10" round fire alarm style bell, triangular steel primary cover and a triangular steel secondary cover making them double skinned (high security). When installing these, the total weight was not always apparent, as they would be installed in parts, backplate, bell, electronics, battery, inner cover then outer cover.
The installation engineers often had to scratch around for different fixings in their toolboxes as there would often not be the correct size, or quantity supplied with the kit. Some resented this and were militant about it, as they were expected to carry their own tools to site, they did not expect to have to carry other items that should be delivered. This tendency for errors on the build sheet and engineer militancy eventually caught up and the inevitable happened.
One day, a traffic warden was walking down a street in Thirsk Yorkshire looking at cars, when a huge item fell from a building with a resounding "ding", it fell with such force that it remained upright, balanced on one corner of the triangle embedded into the tarmac.
The warden claimed it had missed her by just inches and was understandably shaken. The item that fell was painted plain grey and had no external company markings so immediate identification was not possible. The police and the local council got involved and determined it was a Chubb high security delta bell that had fallen.
This was all long before the elf n safety we now all know and love, so there were no bodies available to investigate, however the police asked for the circumstances to be investigated and the resulting outcome was that incorrect fixings had been used, yellow one inch plugs and screws had been used which had simply not been up to the task.
After the police investigation, Chubb were forced to go to every premises in the UK and ensure that their sounders were fixed properly, this involved an engineer visit to install a steel rawlbolt at every site to ensure this incident could never occur again, we all earned a lot of overtime pay over the period.