Cats assistance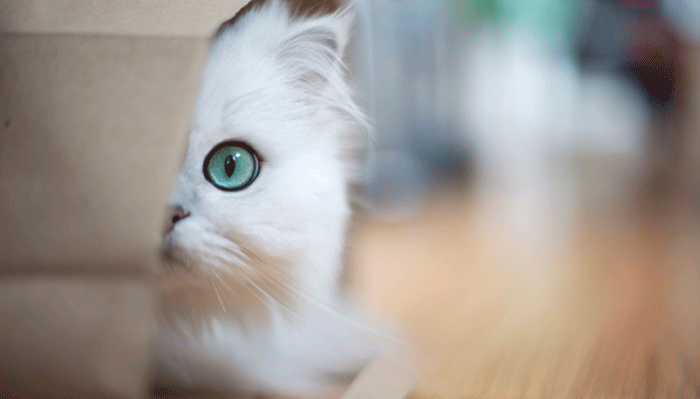 Working with Peter in a lovely house in Bradford we were asked to ensure the pedigree white Persian cat did not go outside, shown the tea and coffee and left to crack on by the customer.
Sure enough, the cat was under our feet all day, and pestering to go outside, Peter said, whatever you do, don't let the cat out as it will be obvious if it is soaking wet and covered in mud.
We took great care every time we opened an outside door to ensure the cat remained in the house. However, as part of our work, we lifted a few floorboards to investigate the possibility of running cables under the house. The cat was under the floor constantly and was covered in soot and cobwebs.
We were about to abandon cabling under the floor as there was not enough room for one of us to get under an pull the cables through, when we had an idea, we lifted just two floorboards, one at the start point for the cable and one at the finish point, we tied a string to the cat's collar and put it down one of the holes, a minute later the cat appeared at the other lifted board and we could now use the string to pull the cables through.
In the meantime, I had been working in the master bedroom, and it never crossed my mind to close the door. Later Peter went into the bedroom to test the PA button I had installed, he called me upstairs and said "look at this" pointing into the master bedroom.
I walked in and was taken back by the sight, the white carpet, matching bed linen, pillows and towels were just covered in soot and cobwebs, the cat had decided to clean itself by rolling all over everything in the room that could clean its fur, yet the cat looked no better for these efforts.
When the customer arrived back later that day, we had shut the cat in the bedroom, we had no choice but to tell her that the cat had explored under the floor, she shrugged this off and signed for the work and we left.
I often wonder what she thought when she walked into the bedroom to find the cat, the soot, and the cobwebs.