DVR Info
CCTV Recorders
Online Security Products offer a large selection of CCTV DVR Recorders
CCTV DVR recorders are designed especially for the CCTV market, they utilise modern compression technologies to maximise the recording times onto the built in hard disk drive storage, on this page we offer a breif description of the features found on modern CCTV DVR recorders to help our customers select the features they need.
CCTV DVR video compression technology, the latest compression technology is the H.264 algorithm, if you see H.264 in the description of a CCTV DVR you are buying the latest version, previous and now mostly outdated CCTV DVR's used MPEG which required approximately 25% more hard disk space.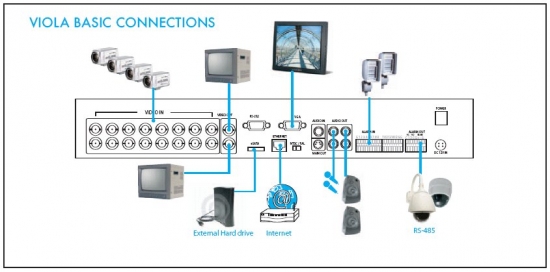 Hard disk size, one of the most popular questions "what size hard disk drive do I need in my CCTV DVR", assuming you record at D1 and a reasonable frame rate of say 6 frames per second per camera, with 4 cameras a 1Tb drive will last for 41 days before overwriting, 8 cameras reduces this to 20.5 days and 16 cameras reduces this to 10 days. To work out what size your CCTV DVR will need, download this handy calculator tool click here.
Recording quality, most modern CCTV DVR's will offer several "quality" setings, typically these will include CIF and D1 as the quality (resolution) each frame of CCTV recording is stored onto the hard disk drive, CIF records 352 x 288 pixels per frame. D1 offers 720 x 576 pixels per frame.
Connections, most modern CCTV DVR recorders offer a multitude of connections, here are the most common and there type:
Camera inputs, usually BNC connectors are provided, one per camera, typically 4, 8 or 16, designed to accept a 1.0V p-p composite video signal over 75ohm co-axial cable or cat5 twisted pair (with the use of a Balun at both ends).
Video outputs:
Main monitor, most modern CCTV DVR machines offer BNC and VGA outputs for the main (control) monitor, some offer HDMI connections, however often this connector is incompatible with domestic TV formats as the output is usually 720 x 576 pixels 4:3 ratio image, look for compatibility when purchasing if you are using a TV as your main monitor.
Spot Monitor, most recorders offer BNC connectors for "spot" monitor output, usually limited to either a single camera full screen, or a sequence of cameras full screen.
Network Output, CCTV DVR networking is the way most modern recorders provide additional control locations, any PC on the network or the internet can take full control of the recorder from anywhere in the world, in addition, a networked CCTV DVR allows access via smart phones such as Iphone, Blackberry etc.

Audio inputs & outputs, most CCTV DVR machines offer audio recording and playback functions, you will need microphones and line level amplifiers to record sound, in addition, you will need an amplifier and speaker (or PA) to playback the audio at the recorder, usually supplied as BNC connectors for input and output, typically a budget machine may have 1 - 4 inputs and one output, an up market machine will offer more (up to one per camera) and may offer an audio pass through feature, this is to allow a remote monitoring service to speak over the PA system within a premises to advise intruders that they are being recorded etc.
Alarm inputs and outputs, most CCTV DVR machines offer alarm inputs and outputs, usually these are screw terminals allowing PIR detectors, door contacts and infrared beams to be connected, alarm inputs are typically the same number as cameras on the recorder, hence one alarm device per camera can be used, the alarm input can either start the recorder or (more often) increase the frame rate for a camera being recorded during an alarm, in addition, the alarm output is a normally open clean contact switch used to trigger other devices, automated recordings warning intruders, speech diallers to contact the keyholders and other technologies.
RS485 output (simplex), CCTV DVR's are usually fitted with simplex (2 wire) RS485 outputs, this connector is utilised to control pan, tilt and zoom type television cameras allowing control over the internet or from smart phones.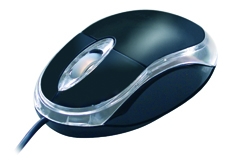 USB2.0 outputs, CCTV DVR machines usually offer 2 USB 2.0 terminals, these allow a mouse to be connected for controlling the recorder and a mass storage device such as a USB memory stick, USB DVD burner or even a USB hard disk to be connected for file archiving.