Intruder Alarm - General Information
Buy Professional Security Products online from an established company
Online Security Products,
suppliers of professional CCTV, Door Entry, Access Control and Intruder parts from top manufacturers.
We supply a vast range of
professional products
from leading manufacturers at
low prices
to trade, retail and industry.
Established in 2007 our staff are highly experienced having worked in the security industry for years.
Online Security Products now introduce a range of security alarm equipment from manufacturers including Cooper Security (Scantronic), Infinite Prime, Castle Care, Pyronix and more.
Top of the range professional security control equipment manufactured by Cooper Security - Scantronic brand, choose from hard wired, hybrid and wireless control equipment from this high end manufacturer.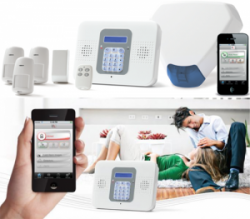 Electronics Line Secuplace wireless control equipment
Secuplace is a brand new, wireless home alarm that comes with pre-programmed, wireless, pet friendly accessories that are simple to install and exceptionally user friendly. Its advanced smartphone app makes this alarm popular with home owners as they can use it to secure their home from their phone wherever they are.
Kit now updated to include wifi connectivity and latest PIR detectors.
Enforcer V10: keeping you ahead of the curve with DIGI-WIFI included as standard
PSTN and traditional phone lines continue to develop issues since the move to digital, while IP communications and push notifications with smart apps go from strength to strength. So, a DIGI-WIFI module* is supplied for free, as standard, with the Enforcer V10 to deliver PyronixCloud and HomeControl+ connectivity and all the benefits they provide.*
Complete control from anywhere with the HomeControl+ App
Set and unset the Enforcer V10, get system status and receive custom push notifications of any event.