JIB pay – strike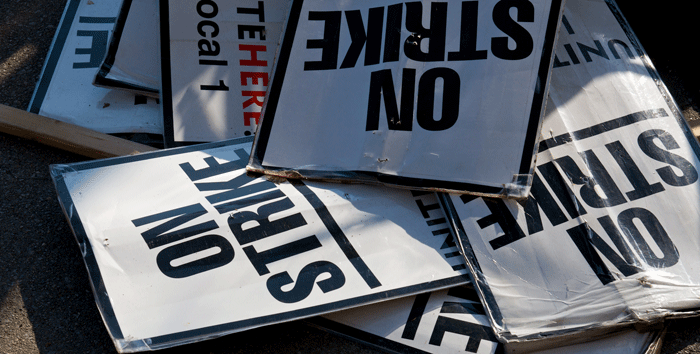 The pay rate for electricians and apprentices is set by the Joint Industry Board (JIB). Employees working in the intruder alarm sector received a higher remuneration commensurate with the additional requirements and responsibilities, i.e. the requirement for a totally clean police record and the responsibilities of working within an environment of trust in premises such as bullion storage, prisons, forensic laboratories, police stations, banks, jewellers, art galleries, and other high risk premises.
In the late 1978 the JIB recommended pay increase following the winter of discontent, rampant inflation and other issues at the time was 28%.
In a meeting called by the management one Friday afternoon we were informed that Chubb was experiencing cash flow problems, as a result wages would no longer be paid at JIB rates plus a premium. We were to receive a pay rise of 14% and another of 7% in eighteen months' time.
This went down like a lead balloon, the engineering team went quiet and that was never a good sign, in the end, it was me who spoke up, I asked what I thought was a reasonable question, if the reason for the pay rise being significantly lower than the JIB rate was just cashflow, why can't the company pay us the proposed 14% now and increase this to the JIB rate with back pay in eighteen months.
This was greeted with much applause and noise from me fellow engineers, but not by the management team.
Following the meeting, which finished at five o'clock, we discussed the situation in the car park and to a man we decided to go on strike starting on Monday and advised the trade union rep to notify the management. I was reliably informed that this was not well received at head office, they wanted to know what had been said in the meeting, the Leeds management team had responded, nothing that was not authorised, however the head office team replied, you must have said something, because they have all gone on strike in Leeds.
We never received pay at JIB rates again, and this affected recruitment. Up to that point, an advertisement for electrically qualified engineers to join the team would have resulted in hundreds of applications, the same advert in 1978 saw just three applicants, none of whom were qualified electricians, but two were employed with immediate start.
At this point, my role as an apprentice learning on the job with qualified experienced engineers changed, I was now expected to assist the new staff members who had no idea what they were doing and effectively train them.