Wiring Door Entry Systems
2 Comments
Friday, 2 November 2012 |
Admin
Wiring up door entry systems - simple is best
Using and wiring door entry systems needs to be kept simple, if you are installing a door entry system with typically 1 door and 1 handset, you should consider buying a kit which will have everything apart from a lock in the box
Door entry systems need a power supply, some connect directly to the monitor which then powers the call point, others have a power supply which sits between the monitor and the call point.
All door entry systems have a switch (voltage free contacts C, N/O, N/C) which are designed to operate the power to an electric lock or to trigger an electric gate, if you are using an electric lock, you will need a power supply for the lock separate to the door entry system.
If you choose a door entry system with a numeric keypad (to allow authorised access by PIN number) the keypad will usually be a separate electronic device even if it is in a single faceplate, typically the keypad will be powered by the same power supply as the lock, most units are simple and have 2 connections for power, 3 connections for a switch to operate the lock/gate and 2 connections for a push to exit button (N/O) to allow people to exit through the door/gate, the door entry switched output and be connected to the connections for the push to exit switch to reduce cabling complexity inside the call point.
Notes:
All locks are either fail safe (unlocked when no power is connected) or fail secure (locked when no power is connected)

If you install maglocks (fail safe) you will need a timer function to allow people to enter/exit through the door, timer PCBs are available and all keypads have this built in
If using a maglock, you must ensure you do not use a power supply with -VE rail connected to electrical earth, most intruder alarm power supplies are not suitable for this reason
To meet fire authority regulations, a green double pole break glass must be installed by the door to cut both legs of the cable powering the lock in an emergency
Simple wiring schematics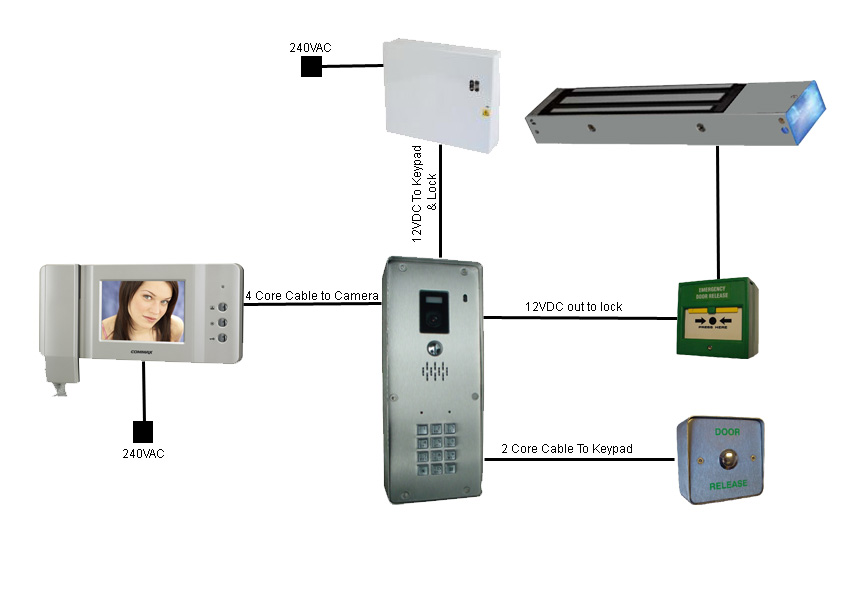 Door entry with maglock and keypad schematic