Penguin alarms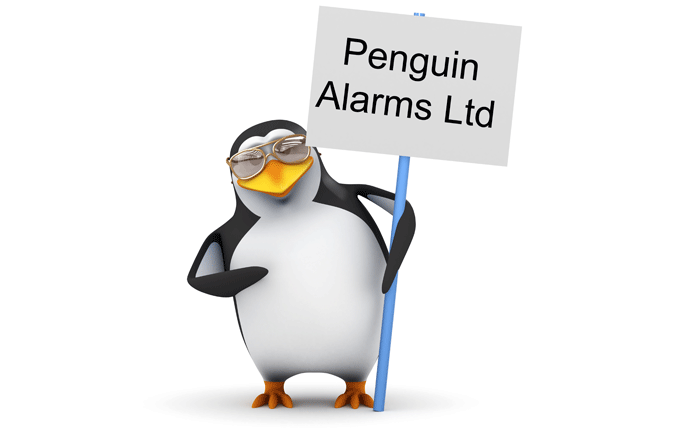 Back working with Martin, I joined him at a customer's house where we had to alter the alarm system, including re-locating the control panel.
The customer had recently moved into the house and had adopted the alarm system but required changes to suit them and training on its use.
Martin was on fine form, with his unusual sense of humour from the off, I was up a pair of steps taking down a detector when Martin walked in to the room, farted loudly and walked out again, I thought OK so that's how today is going to go then.
The customer had encountered Martin in the master bedroom moving the bedside cabinet to access the personal attack button, when Martin said, just looking for your stash of porn, with a grin on his face.
Later I went in to the kitchen, Martin was marking the cables and disconnecting the control panel located at the cellar stairs entranceway, the customer walked in and Martin said, It's very dry work this, altering alarm systems, the customer got the broad hint and made us tea with biscuits, not just rich tea, but posh chocolate Penguin biscuits.
At lunch break, we sat in Martin's Sunbeam Alpine car and ate our sandwiches, the customer brought out more tea and as we ate Martin developed an idea befitting his very unusual sense of humour.
He asked me to pass him a pair of scissors from the glove box, fished out the wrapper from the Penguin biscuit the customer had given us earlier and cut carefully around the penguin leaving just the oval with the penguin and the banner below with the word Penguin on it, because the wrapper had been unfolded, the banner was elongated and plain either side of the brand name, which Martin preserved.
We finished the alterations after another cup of tea and it was time to hand the altered system over to the customer, Martin said I should watch the handover as I would lean how to teach a new customer how to work the system.
Martin called the customer for the training and I watched, however, I could not help but notice that Martin had stuck the Penguin wrapper he had cut down previously to the front of the control panel, covering over the Chubb logo, he had written on the unused part of the band either side of the brand name "Moved by" Penguin "Alarms Ltd".
Martin proceeded to show the customer how to use the alarm and even pointed out the fact that it had been moved by Penguin alarms ltd with his usual cheeky grin, the customer said nothing and signed the completion paperwork.
When we were outside about to leave, I said to Martin, what is this thing with Penguin alarms, he just grinned and drove off.
I often thought afterwards, what did the customer think?