Private shop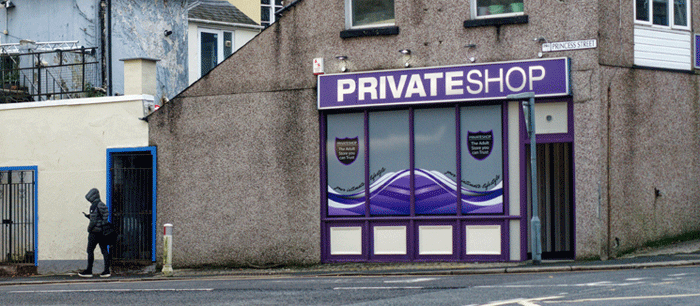 NB: Image is Not the Private Shop, Chapeltown
One Monday morning I was given an address where I would be working for the next three days installing an alarm in a retail shop called private shop in Chapeltown, one of the poorest areas of Leeds.
I arrived at the shop address but it did not open until ten thirty so I was forced to wait outside, as I did so, there were thirty or so women also outside the shop protesting and holding women's lib type banners and placards.
I kept out of their way, but when the shop opened, I had to enter through the front door to complete my work, with much chanting and baying from the protesters. The second I walked in I started to understand why they were there. The shop was selling everything you could possibly need to spice up your love life, hence the name.
There were dildo's, vibrators, costumes, blow up adult dolls, make up, condoms, VHS films and much more. As a nineteen-year-old lad, I was unperturbed by all this, having been to Soho in London a year or so before and seen much worse.
I was convinced that my favourite supervisor, Gordon had selected me for this particular job as my first installation by myself as I was now considered a senior apprentice.
I ignored the stock and just got on with the job in hand. The girl working behind the till was chatty and polite and we shared a few tea breaks together over the next couple of days. She told me the new alarm was necessary as the store had been set on fire by the protesters nine months before and had only just reopened. There were not many customers as the protesters made the environment uncomfortable for customers approaching the store and the shop assistant was concerned for her job.
I was generally OK with the shop selling all the sex products, as I was not a customer it did not affect me whatsoever, although on reflection, I would not have wanted a branch to open in my area.
There was one aspect which I thought was a bit too much however, the shop had a small cinema comprising a TV set and VHS recorder behind curtains at the back, the shop assistant was also uncomfortable when older men paid to view a movie in private whilst she worked alone in the store.
In 1987 there were riots in Chapeltown road and the private shop was destroyed by fire.
Wikipedia notes that "The riots of 1987 began Sunday, 21 June, when a black teenager, 17-year-old Marcus Skellington, was arrested and beaten by police. It is estimated that 70 teenagers participated in smashing shop windows, looting, and attacking police officers 22 and 21 June. On 23 June, shops, cars, and windows were burned, bombed, and stoned, including a sex shop which was completely burnt down. The burning of the sex shop was particularly significant for two reasons. First, it was not widely supported or wanted by the local community and had been protested prior to the riots. Second, it was believed that the police carried out surveillance of the Hayfield Pub car park for marijuana dealing from above the sex shop, despite the sex shop operating illegally at times."