The Featherstone Kite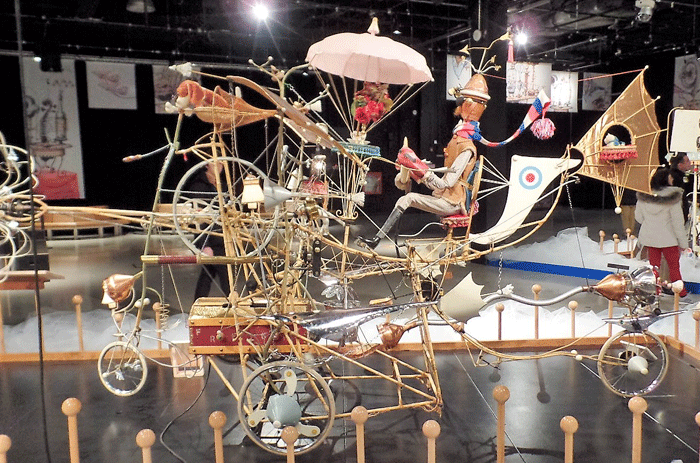 Image copyright Ken Dowel
https://offtheleash.net/2016/12/18/10-really-interesting-things-i-saw-in-toronto/samsung-camera-pictures-1070/
The Merrion Centre in Leeds, originally an open air shopping centre underwent a multimillion-pound refurbishment in the 1970's and was enclosed with a roof to provide almost a million square feet of retail shopping arcade complete with cinema, supermarket, car parking etc and was the largest mixed use development of its kind in the world when completed.
The centre utilised a Chubb alarm for the council offices and other sections, however as the new roof was completed, a new art installation was to be installed, this comprised of an ornate glass structure to house The Featherstone Kite, the gentleman's flying machine, by Rowland Emett, a renowned cartoonist.
Originally the kite was activated by a sensor, however it was quickly modified to activate for two minutes every half hour. It consisted of basket work with many other parts that were animated to give an impression of flight, complete with a life-sized gentleman puppet as a pilot. Whilst running, there was a musical soundtrack to complete the experience.
The kite was already completed and installed when a decision to add the protection of the intruder alarm was made, the surveyor called to look over the possibilities, however the kite was installed as a free standing structure in the main entranceway, with solid concrete floors around the location, which were then finished with tiles.
Whilst the kite had power, the cables could no longer be accessed and no thought to installing additional cables had been given. Eventually, much to the disgust of the architect and Mr Emett, a cable was dropped from the ceiling some seventy feet above the kite's glass display case. This permitted the installation of break glass detectors which were bonded on to each glass pane in the display case.
The cable, leaving the ceiling and dangling down to the case was always visible and soon went black with dust and cobwebs. Every time I walked through the Merrion centre it always stood out to me as a planning failure.