York Minster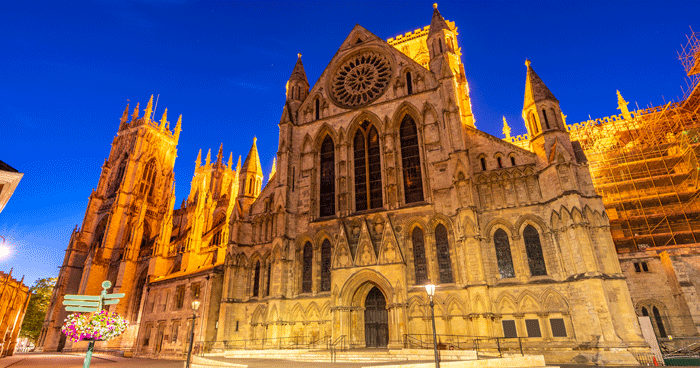 One day, I was a bit surprised to receive a phone call at the site I was working at, I was asked to leave the engineer on his own and travel to York Minster to assist another engineer working there.
When I arrived, I managed to blag a parking spot for my motorcycle in a small courtyard next to the minster and permission to park there for as long as I needed, the engineer met me on site and he could not believe it, he had been forced to park his car two miles away and pay a fortune per day to park.
The work in the minster, mostly in the vaults/crypt area had been started by others and we were to take over and finish the installation. The engineer had been advised by the supervisor that we must not swear whilst working in the Minster, which seemed an odd if understandable instruction.
Three hours into the work, suddenly we were in pitch darkness, the engineer fortunately had a cigarette lighter and lit it, in the dim light he found his way to the staircase and up to the entrance where the master light switch had been turned off. Turning the lights back on, we continued with the work when 20 minutes later, the lights went out again.
This time the engineer had a scout round and spoke to some of the Minster staff. Oh yes, they replied, we have had those lights left on so many times that we have been instructed to check when we pass and turn them off if they are on.
The engineer decided enough was enough, so he opened the master switch and connected the wires together to disable it, we had no further issues and completed the work, then restored the switch function to normal.
A few weeks later I was helping Martin on another installation when York Minster came up in conversation. It was Martin and another engineer who had started the work, neither smoked and the first time the lights went out, Martin had hurt his leg stumbling around in the dark for hundreds of paces around all sorts of stuff to finally get to the top of the stairs and restore the lights.
On the fourth sudden darkness event at the beginning of day two on site, Martin had shouted, "Oi, turn those fucking lights back on", within two hours a supervisor arrived and asked Martin and Grant to leave the installation.
It turned out later that the person who had investigated the vaults, and switched off the lights on that occasion, was the Archbishop of York, himself.