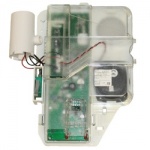 Pyronix Deltabell Range£17.12
Pyronix Deltabell E is the next generation in external sounders from Pyronix, one of the world's leading security manufacturers. This aesthetically pleasing sounder offers a number of engineer friendly features; the unique levelling mechanism and modular components which now make simple sounder installation a reality for you.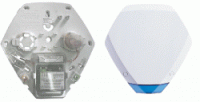 Texecom Odyssey 3 Range Premium or Economy£22.09
Texecom Odyssey 3 The Odyssey Series from Texecom provides uncompromising solutions for any professional installation. Each Odyssey is equipped with an outstanding array of features that clearly redefine the standards that external sounders are judged by. An economy "E" version of each Odyssey unit is available, aimed at protecting residential premises that require maximum security at the most cost effective price. Utilising the same microprocessor technology throughout the Odyssey Series, each Odyssey E provides total reliability and ease of installation.



Scantronic I-ON 760ES wireless external sounder£133.68 £98.11
i-on16 Wireless Externa Sounder - 760ES Description The 760ES is an external, self powered, siren and strobe unit designed to work with the I-ON range of control units. Fitted within the enclosure are twin sounders capable of exceeding 100dB(A), a ra