Skyline Modules

Fermax Video Door Entry Skyline Modules
FERMAX SKYLINE Modular Infinite Possibilities
SKYLINE is the only one able to respond to all the market needs. Integrating VIDEO DOOR ENTRY, ACCESS CONTROL AND INFORMATIVE DISPLAYS in the same unit. Providing TOTAL CREATIVE FREEDOM through its versatility and modular design. FERMAX guarantees the immediate supply of SKYLINE products worldwide.
COMBINES
28 different references: 8 frames of different dimensions, audio-video modules, pushbutton modules, digital modules, access control readers, informative modules and other accessories.
ENHANCES
Modules include the most cutting-edge technologies and functionalities, such as the new informative screen or biometric reader.The modules are mutually compatible. The smart connection system facilitates their repair and maintenance, as well as the subsequent inclusion of more cutting-edge equipment or new modules.
RESISTS
Manufacturing materials – anodized aluminium profile, chromed zamak pushbuttons and reinforcements, polycarbonate in transparent elements, stainless steel inner grids, etc - are chosen for their beauty and maximum resistance to bad weather.
COMPOSITION
Consists of 8 different-sized frames where different modules can easily be fitted. Modules come in 2 sizes, designated V and W (W is twice the size of V). The audio and video modules are available in all FERMAX technologies (VDS, MDS and 4+N). Once technology has been selected, the use of these modules with the appropriate frames, allows to set up the necessary panel for any installations.
COMBINATIONS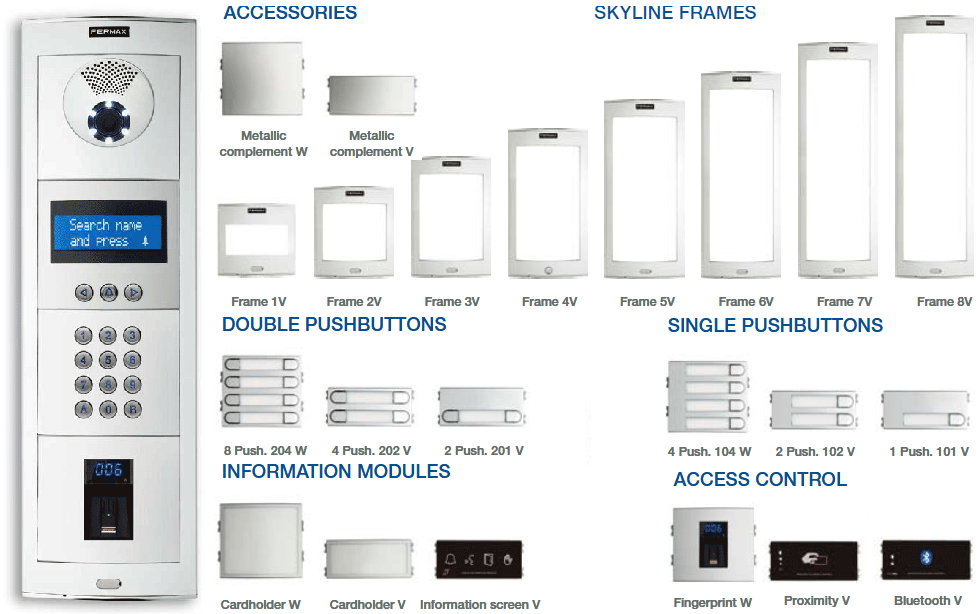 ASSEMBLY
The module-frame clip-on assembly system is very simple and effective. The modules fit perfectly into the profile. Watertight tapes prevent water and dust entry. Once the panel is assembled, the different modules are connected to each other. The final result is a compact and robust equipment set, just like a monoblock panel (IP43 IK7). The pushbutton contacts and digital keypad are watertight, assuring their operation and reliability. Proven in laboratory trials to be able to resist 100,000 pressings in 48 hours.

Technical Features (VDS Video Panel with Pushbuttons